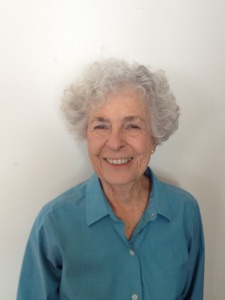 Ann Dahl
Co-Vice President
Ann Dahl was born in Cleveland, Ohio.  On a trip west, when Ann was 13 years old, she stood on the shore of Jenny Lake in awe of the Grand Teton Mountains and decided then that she wanted to be a geologist.  Ann attended Ohio Wesleyan University and received a BA degree with a major in geology.  She met Chuck in the mineralogy lab and they were married in 1955.  Their first year of marriage was in Heidleberg, Germany where Chuck was in the army.  They moved to Salt Lake City where Ann taught general science and math in Junior High School while Chuck obtained his MS in geology.  Their three children were born in Salt Lake City.
Chuck's work as an exploration geologist  took Ann and their children to Mendoza, Argentina, Sydney and Perth in Australia, Miami, Florida and Houston, Texas.  While living in Houston, Ann taught Earth Science in Middle School and Biology, Geology, Physics and Astronomy in High School.
Ann and Chuck retired to Jackson Hole in 1993 so that they could both return to the mountains they have loved so much.  They have both been active the Geologists of Jackson Hole and the Jackson Hole Astronomy Club.  Ann has given Astronomy and Geology presentations to schools and many other organizations.  Ann is 2nd Vice President for the Geologists of Jackson and is chairman of the Educational Committee.  Her special interests are cross country skiing, hiking, cooking, gardening and being with her family.