September 21:  Intermittent Springs, Afton WY field trip 
 Led by Brent Schaffer
This day trip involves a short drive south ~1.5 hours to Afton, WY (70miles).  From the highway, we head left into the mountains driving about five miles to a parking area.  The 3/4 mile trail is gradual and easy. We'll walk by some nice dikes.  The last [optional] part of the hike is about 100yds to the top.  This part of the trail is steeper and rocky (photo) but very doable. Interesting geology features create this fascinating spring that is best viewed in fall. The intermittent "cycle" is about 20 minutes. You'll want to watch 2-3 cycles where this stream literally stops and there is NO water coming down.  It is engaging. This secret little gem Wyoming offers is unusual and a good place to eat lunch.  Bring a sack lunch and join us.  If you've never seen it, you really should come along.  
Trip Details: Meet at Smith's parking area near the gas station at 9 am. We will depart at 9:15 am.  We can park and carpool from there. If folks live in Star Valley want to meet up us, they can.  We will make a brief stop at Broulim's [grocery store] in Afton between 10:15-10:30 am. Bring your fishing pole, there is a nice stream as you ascend the canyon. The last 100m is stepping over boulders and tree trunks to get to a wooden bridge so you can cross the creek. There are two nice picnic tables across the creek.  
Contact: John Guslander at john@wyom.net to sign up for this trip. Limit 30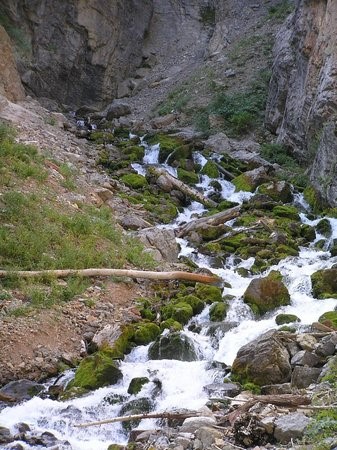 Oct 11 – 13  Dinosaur trip announcement 
Oct 11, 2019 Friday 9am – Leave Jackson for Flaming Gorge Reservoir following highway 530 on the
west side of Flaming Gorge. Follow the Sheep Creek Geologic Loop south of Manila (road 218). Camp at
Red Canyon Visitor Center area. Rim campground see map.
Oct 12, 2019 Saturday 8am – Leave for Dinosaur Quarry following highway 44 to 191 to Vernal, head
east on 40 to Jensen, head north at Jensen to the quarry. Visit the new building housing the quarry site.
Camp at Split Mountain or Green River campsite.
Oct 13, 2019 Sunday 8am – Leave for Jackson. Possibly see Museum in Vernal. Field Museum is closed
on Sunday during winter. Official start of winter is in October but date is unclear.
Oct 13, 2019 Sunday 8am Optional . Continue east on highway 40 to Canyon Visitor Center. Go north on
Harper's Corner Road to Echo Park Overlook. Go back to the way we came or continue on Echo
Park Road above the Yampa River on bench. Exit at Elk Springs and take highway 318 to either
191 or 430. This is probably a long slow drive hence the optional form.