Join Us
Membership in the organization is open to anyone interested in geosciences and related issues.
Like the world itself, geology is a constantly changing science.
We believe our organization should change as well — always moving forward — and one of the best.
That is why we would be happy to have you join us at our meetings, on our field trips, and at the many other local events that we are involved in.
Benefits of Membership
Opportunities to suggest topics and help frame programs
Opportunities to vote on activities (e.g. field trips, films, and seminars)
Opportunities to participate in public school programs
Early notification of evening lectures on topics of interest
Priority enrollment in all events, especially for field trips, where space may be limited.
Participation in members-only field trips and certain meetings.
Members-only quarterly social events – wine tastings, barbecues, potlucks, etc.
Become a Friend!   
You can easily join the many friends of the Geologists of Jackson Hole here and receive our monthly Newsletters.  These invite you to our coming events and lectures.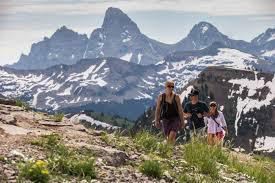 Individual           $20
Families              $35 – Member and spouse
Sustaining           $50 – Member and spouse and opportunity to invite guests
for the monthly members' luncheon meeting & presentation.
To join the organization as a member, please fill out an online application and pay your first year's dues.  .(here later; we are transitioning to a new systrem)
Although  you can pay by check, we urge you to use the on-line system to make it easier for our volunteers who would have to enter your information on-line for you.  You can use credit cards (or Paypal) in the on-line system.  We use the Paypal interface to ensure the safety of these transactions.
Otherwise , send name, email address (this is the required ID), physical and mailing adresses and phone and make out a check to "Geologists of Jackson Hole" and mail it to:
GJH Treasurer
PO Box 11184
Jackson, WY 83002
For a printable copy of the application form, click Here