1.0 If you have downloaded Zoom 5.4 or later there are NICE improvements. Not only is Zoom's security  vastly improved, the menus are easier to navigate. 
2.0 After you join our Zoom meeting, your screen will display one or more "mini-screens". Important:  Move your mouse to make the menus appear. Move your cursor to the top or along the right side  to see some of the menus. . . move across the bottom of your screen and more menus will pop-up.  After a few seconds, they all disappear. Zoom wants to take these out of your way so they aren't  annoying you during a presentation. Move your cursor again to see them. 
3.0 Zoom menus: Speaker vs. Gallery View 
We recommend using Speaker views (as seen below) and Fullscreen mode. Before the presentation  begins, try toggling between speaker view and gallery view a few times to see the difference.  Speaker view makes the presenter's (or whoever is speaking) screen as large as possible. Gallery  view gives you same-size view of everyone attending. Switch to speaker view.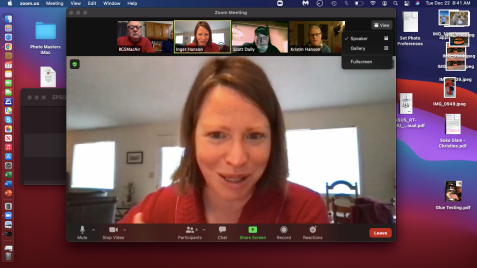 After our presenter has begun his/her talk and starts sharing slides, select View in  the upper right-hand corner, then select Side-by-side: Speaker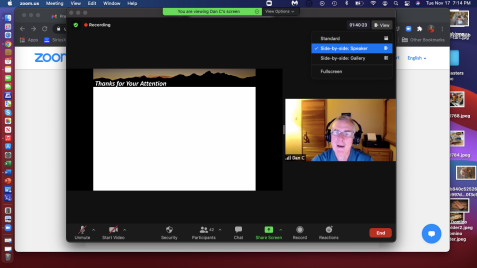 Next, make the Speaker window on the right larger or smaller by dragging the gray bar in the middle  of the screen left or right.  
IMPORTANT: Again, we recommend clicking on Fullscreen mode & Speaker under the View menu.  
If you just want to listen and not ask questions, you are done! Enjoy the meeting. If you want to  know how to ask questions during a Zoom meeting, keep reading.
Zoom menus: Start Video, Participants, Chat 
Unmute – Unmutes your microphone. This feature is unavailable during our meetings. 
Start Video – this controls the camera on your PC. Please turn this off. 
Security – You won't see this one. This is for the host only. 
Participants – Be sure to click this one. This brings up another window with a list of  participants and more (important) buttons to click. If you are in full screen (FS) mode you will only see a list of participants on the right side of your screen. If you exit FS  mode, you will see the full participant list that you can scroll through and at the bottom of the Participant window you will see these reaction buttons: 
Raise Hand – At the end of a talk, you can raise your hand to ask a question.  Unmute me – can only be used when permission is given. (Same as Unmute) Mouse over your name in upper right portion of the participant window. Click the more button. You can change your screen name here. Be responsible.  
Chat – Be sure to click this one. This opens another window where you can send  questions to the co-host while our speaker is talking. Ask your questions as you think  of them. The co-host will read questions to the speaker at the end of the  presentation. 
Share Screen & Record – these features are only available to our speakers. 
Reactions – Be sure to click this one. The host/co-host and speaker will see if you  "clap" or give a "thumbs up".
4.0 We want you to ask questions via the "chat" feature which can be found at the bottom of your  Zoom screen anytime you move your mouse or cursor. When you select chat, it opens a dialog box  on your PC wherein you can send a message to the host/co-hosts. You can move this dialog box  around on your desktop. At the end of the talk, the host/co-host will read all (approved) questions that have been submitted. 
5.0 If we allow the audience to ask questions live, then raise your [virtual] hand. You will be individually  unmuted so that you may ask your question(s). 
Also, make sure to test your equipment first. That happens at the beginning of any Zoom meeting. Before you join, click Join with Computer Audio and a box will say Test Speaker and Microphone.  Choose that option, perform the tests, then join the meeting. 
Be aware that everyone will hear all background noise. e.g. – your dog barking, others talking to  you, the doorbell ringing, music playing, etc. . . . everyone will hear those things! Please use a quiet,  secluded room if you want to ask a question. For even better clarity, use ear buds or your cell phone  headset. They work great! Your voice is clear and background noise is minimal. 
6.0 Dial-In or Smartphone – On our Zoom meeting invitation, there are several telephone numbers you  may use to "dial in" on your land line or Smartphone. If you dial-in you will receive audio only. We  do not recommend that. Our presenters have fantastic slide presentations that you will want to see. You can attend a Zoom meeting on your Smartphone with most the same features as your PC.  However, you must download the Zoom App to your Smartphone first. Then use the meeting  number and password to join. It's that simple! 
Feel free to submit comments. We appreciate any input or feedback.