Education Experiences and Testimonials
The outreach program of the Geologists of Jackson Hole reaches successfully to nearby schools and youth programs.  The enthusiasm of our presenters inspires the young people and is gratefully acknowledged by their teachers. During years 2011- 2018  we have enriched the lives of 2500 students with exciting field trips and classroom presentations.
Recent Activites
GOJH schools educational outreach: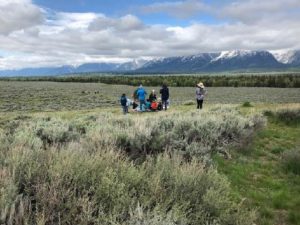 On May 29 John Guslander and Mike Scher taught 17 1st and 2nd graders from the Journeys School local geology on a field trip in the Tetons and to Slide The weather was quite good and a fun time was had by all.  April 23 and May 10, 2019, John Guslander did talks on Rocks, Minerals and Mountains in Afton and Victor.
Past Activites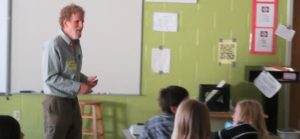 "The students couldn't stop talking about their geology experiences with you…you have inspired some future geologists…."  The Journey School of the Teton Science School, field trip to Gros Vente Slide, June, 2016
"Thank you Mike!  Our kids loved the presentations and we are so grateful to you for making the trek over to spend the morning with us!  I know that the powerpoint with the older kids was very age appropriate and they were very engaged."  Learning Academy, May, 2016

" very pleased with their enthusiasm and content knowledge…animations- like the colored Teton cross section … great for visualizing" JHMS, Oct 2016
Activities of the Last Year
April 24, 2017   Literacy Center –  A program comparing the geology of Mars to the geology of Jackson Hole to students who were writing fictional stories about Mars.
April 25, 2017   CV Ranch  – Hands on experience with rocks, models and surface geology map of Jackson Hole.
May 23, 2017    Journeys School, 3rd and 4th graders –   Geologic time and general geologic principals to prepare them for a trip to Thermopolis and the Dinosaur Center.
June 14, 2017    Boy Scout Group –   Presentation on the August 21st total solar eclipse
June 23, 2017    Red Top Meadows –  A Science Friday which included information on the August 21st total solar eclipse, activity on gravity and how black holes are formed and a hands on identification of rocks and minerals.
July 16, 2017       University of Michigan Earth Camp Program for Michigan high school students.  Field trips at Camp David with a view of Basin and Range extension and the Sevier Orogenic event.
July 21, 2017        University of Michigan Earth Camp Program – Field trip, hike to Lake Solitude with geologic explanations.
July 31, 3017        Teton Science School and Teton County Schools –  Activity on volcanoes and discussion on Yellowstone Super Volcano.  This presentation was at the end of a 4 week geology program for students entering 4thgrade.
November 16, 2017  Jackson Middle School –  Presentation on Yellowstone Hot Spot
March 1, 2018        Journeys High School – Presentation " Energy in Wyoming and the World:  Critical Choices and Costs"
April 23, 2019        We did a rock, minerals and mountains talk for the 4th grade at Osmond Elementary in Afton, Wyoming.
May 10, 2019          We gave the same talk to two 2nd grade classes at Victor Elementary in Victor, Wyoming