"Greater Yellowstone Climate Assessment",
Presented by Dr.
Bryan Shuman, University of Wyoming
November 1 st (Tuesday), 6 p.m., Via Zoom (online) & Live at
Teton County Library. Open to Public.
Climate change is already altering the Greater Yellowstone region and the ongoing trends have the potential to fundamentally alter this iconic ecosystem. To help understand the changes and motivate discussion about them, the Greater Yellowstone Climate Assessment was published in 2021 by a combination of researchers from the University of Wyoming, Montana State University, the U.S. Geological Survey, and the Greater Yellowstone Coalition. This presentation will focus on some of the key findings, particularly for the area around Jackson and the Tetons where average temperatures have increased by 1.1 degrees F since 1950. One of the most critical changes accompanying regional warming has been a progressive transition from snow to rain as a mode of winter precipitation. Across the Greater Yellowstone Area, annual snowfall has declined by about 25% since 1950, although only by 11% in the Snake River headwaters watershed above Jackson. Policy choices at the global level will determine how rapidly and severely these changes continue with the potential for the winter rain-snow line to rise to >10,000 feet by mid-to-late century. Likewise, our collective global choices will also determine whether Jackson becomes a place with two weeks of 90-degree weather each summer or two months of 90-degree weather. A new University of Wyoming initiative funded by the National Science Foundation, called WyACT (Wyoming Anticipating the Climate Transition), is underway to help communities such as Jackson anticipate and plan for these changes. The presentation will include a summary of some aspects of the WyACT project and the potential for involvement.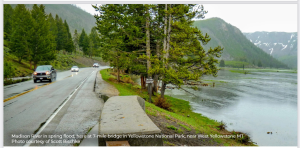 Topic: Greater Yellowstone Climate Assessment
Time: November 1st, 2022 06:00 PM Mountain Time (US and Canada)
Join Zoom Meeting
https://us02web.zoom.us/j/4555651818?pwd=U09ObDNZOEIyZmRtMEtsdUowQnJqdz09
Meeting ID: 455 565 1818
Passcode: 576063